Give A Kid A Coat Kicks Off Friday
My Grandpa used to swear by the Farmer's Almanac so much so that he'd plan to plant his garden around it.  The thing is, how accurate is the Farmer's Almanac?  In order to be printed in time, predictions, including weather predictions, must be made 18 months in advance.  So, if you are like my Grandpa, you'd look at their winter weather predictions for this year and see that most places in the United States should see above-normal temperatures.  According to the Farmer's Almanac website, "It's still going to be wintery, of course, but it won't be an especially frigid year."
I say, given that some of their methods date back to 1792, how is it possible to get the weather right that far in advance?  Further, why would you want to risk being wrong, especially when children are involved?  Finally, even with average temperatures that are above-normal, there could be some exceptionally cold days.
We're not willing to risk it.  That's why, just as we have done every year for the last 32 years, we're kicking off the 2019 Give A Kid A Coat Campaign Friday, January 4, 2019, during a live event held at the A Cleaner World located at 2527 Eastchester Drive in High Point.  Can't make the event?  No worries, all A Cleaner World locations will be accepting coat donations beginning January 4 and ending February 9. 
Here's how Give A Kid A Coat works:
You drop an outgrown coat or a coat you no longer need at any A Cleaner World location.
A Cleaner World cleans the coat, makes any needed repairs, and sends the coat to The Salvation Army.
The Salvation Army has distribution centers throughout the Triad.
Anyone that needs a coat simply goes to a distribution center to receive one.
Then this happens: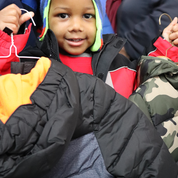 Don't risk it.  Check your closets for a coat to donate, and make sure a child stays warm this winter.