Commercial &
Uniform Rental Services
A Cleaner World's Uniform Rental division is the Triad's leading provider of fully managed workwear and dust control solutions. We are locally owned and operated and we have the products you need to keep your business running smoothly. Our solutions include workwear, commercial floor mats, commercial mops, commercial bathroom supplies, restaurant aprons and towels, and shop towels.
Service Areas
A Cleaner World is proud to serve many areas throughout North Carolina. We service not only the cities and towns highlighted in the below map, but the entirety of this area of NC, from the city to the country.
We would be happy to discuss the possibility of adding you to our service territory. Simply fill out the inquiry form below.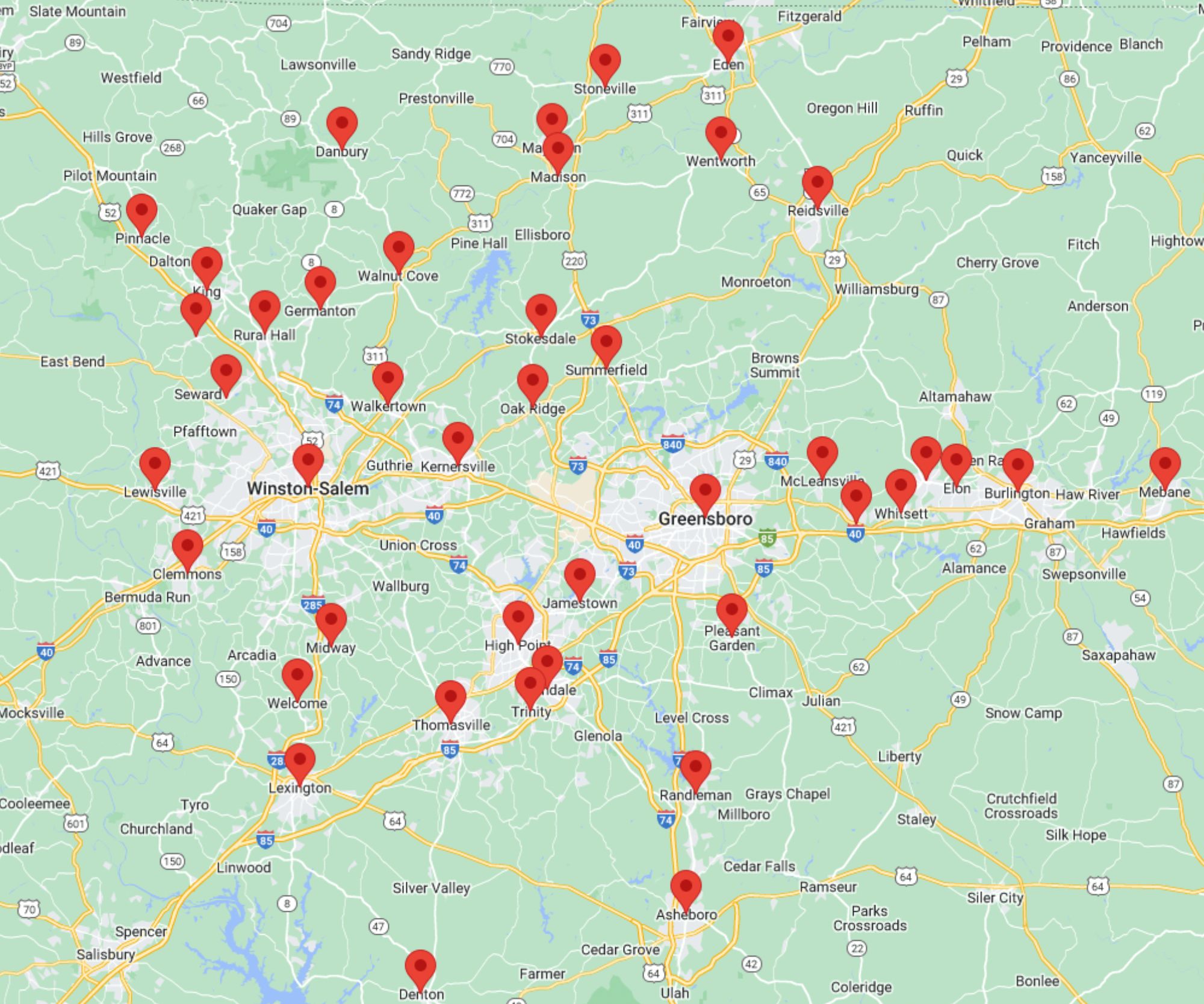 Guilford:
Stokesdale
Summerfield
Oak Ridge
Greensboro
Jamestown
High Point
McLeansville
Gibsonville
Sedalia
Whitsett
Pleasant Garden
Rockingham: 
Madison 
Reidsville
Eden
Wentworth
Stoneville
Mayodan 
Stokes:
King
Pinnacle
Walnut Cove 
Germanton
Danbury
Forsyth:
Rural Hall
Tobaccoville
Bethania
Lewisville
Winston-Salem
Clemmons
Walkertown
Kernersville
Davidson:
Welcome 
Midway
Thomasville
Lexington
Denton
Randolph:
Trinity
Archdale
Randleman 
Asheboro
Alamance:
Burlington
Mebane 
Elon
Rental & Cleaning
We offer the rental of several commercial products, such as uniforms, floor mats, shop towels and wet/dust mops.
For Purchase
We offer the rental of several commercial products for purchase such as bathroom supplies, restaurant supplies and custom apparel.
Working With Us
The best quality we possess is our level of service.  We are smaller, family owned, and local. Because we are small we can move quickly.