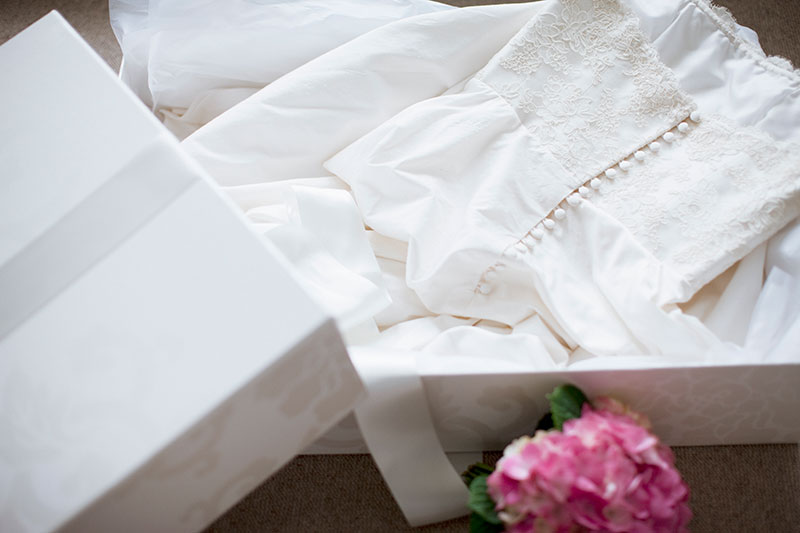 Wedding Gown Cleaning and Preservation
If clothes make the man, then the wedding gown makes the woman.  Let's face it, nothing says more about a woman than her wedding dress.  When you see her walk down the aisle for the first time, it's like you are seeing her clothed in grace, beauty, poetry, and dreams.  Most brides spend lots of time searching for and lots of money on that perfect gown, only to take it off after the reception and hang it in a closet for far too long before having it cleaned.  And unfortunately, the longer the gown sits in the closet unclean, the less likely all of the stains can be removed when it is finally dropped off to be cleaned.
A Cleaner World knows your wedding gown is the most important garment you will ever own. 
We treat every single gown like the prized possession it is by following these important post-wedding care steps:
We carefully inspect each gown, looking for spills or stains that need special attention.  Sugar, salt, and clear beverage spills are often difficult to detect until they've had a chance to oxidize and turn an ugly brown color, but with our years of experience and vast training, we will remove those spills as well, before they have a chance to discolor the fabric.  All stains will be identified and individually treated with the appropriate method to ensure safe removal.
Next we inspect for snags, tears, sagging hems, or loose adornments.  Our seamstresses and alteration experts will repair any issues before the gowns are cleaned.
After the pre-spotting and repairs are complete, A Cleaner World cleans each gown using our proven yet gentle cleaning methods to restore all gowns to their pre-event condition.
After cleaning, a trained member of our staff hand presses each gown with meticulous care, carefully watching out for embellishments and delicate fabrics, making every single one as flawless as it was when it walked down the aisle.
Once cleaned and pressed, preservation is the final step.  Should you decide to have your gown preserved, A Cleaner World will place it in a special chamber, which helps reduce the chance of yellowing and guarantees that your gown will maintain its beauty for years to come.
After you pick up your freshly preserved gown, A Cleaner World recommends that you take it home and store it in a cool, dark area.  Never store your gown in a basement or attic that's not climate controlled.  Basements can hold excess moisture and attics are vulnerable to extreme temperatures.  Both are prone to bug infestations because of the moisture and weather fluctuations.
For more information about wedding gown preservation, click here.  If you have a specific question about cleaning or preserving your wedding gown, simply call or stop by one of our locations.  We are here to help.