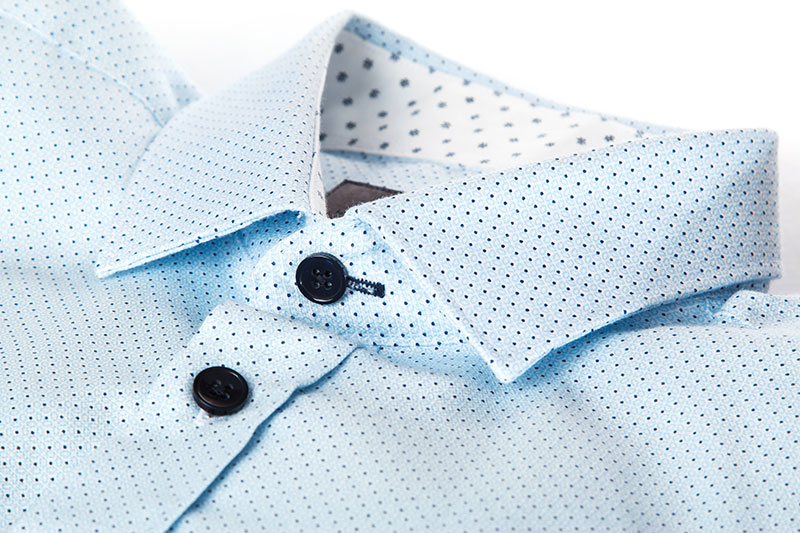 How to Keep Collars From Curling
Curled up shirt collars are annoying and can be embarrassing. If you do your own laundry and frequently experience curled collars, here are a few tips to help you resolve the issue.
Remove your shirt from the dryer while it is still slightly damp. Hang the shirt and button the neck band. Fold the collar down and smooth out any wrinkles then allow the shirt to air dry.

If the collar of your shirt curls in spite of your efforts, follow these instructions for starching the collar:

Place the shirt on the ironing board and spread the collar out.

Iron the collar until it stays flat using a steam iron at the highest heat recommended on the label. Flip the shirt over and repeat ironing on the opposite side of the collar.

Lightly spray starch on the collar and iron it again. Flip the collar over, spray starch and iron on the opposite side. Iron the tips of the corners with the point of the iron.
The collars of quality men's shirts aren't usually prone to curling due to better cloth, construction, and the inclusion of collar stays. Collar stays can be purchased separately most often made from thin, flexible plastic but can also be found in mother of pearl and stainless steel. These can be purchased online or in men's clothing shops. Collar stays are slipped into (and out of, before laundering) a small fabric pocket sewn to the underside of the shirt collar. Stays prevent the collar points from curling.

Plastic collar stays are meant to be removed from the shirt before laundering as they can melt under high temperatures. Magnetic collar stays, peel-and-stick temporary collar stays, and iron-on collar stays are available for purchase as well and are easily found online. Both the peel-and-stick and the iron-on collar stays are also good for polo and other knit shirts with curled collars.

Of course, you can always depend on A Cleaner World for expert laundering, dry cleaning, and clothing care. Contact us or stop by any of our convenient locations for prompt attention to your curled collars as well as additional dry cleaning services. Also check out our Wild Wednesday deals, where everyone can get ACW quality at great prices every Wednesday.