How to Properly Set the Dinner Table
When I was growing up, my parents, my sister, and I, even though both my parents worked full-time, sat down at the dinner table and ate dinner together almost every night of the week, consistently. In our household, we are lucky if we eat dinner together as a family two to three nights a week. That's because Matt works late most nights, and Gray is playing soccer, doing fencing, and participating in scouts.
Most nights, our dinner is served at the kitchen counter where I hand those in attendance a filled plate, napkin, fork, and a glass a water. So, when we have dinner guests or my mom asks me to set the table at their house, I have to stop and think. Thankfully, we're not so formal that I need to remember things like where to put the fish knife and the sherry glass.
Diagram of an Informal Place Setting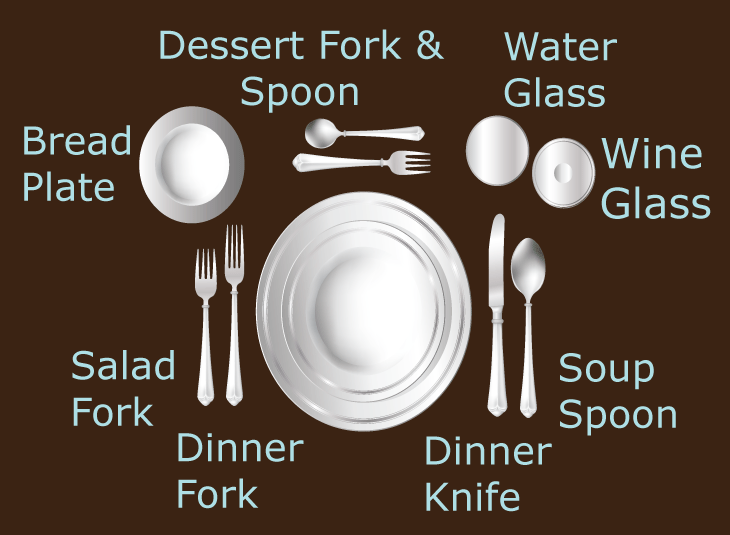 Important Details
To determine proper spacing. Know that elbow room requires a minimum of 15" between place settings.
If an uneven number of people are being seated, the odd-numbered place settings are laid opposite the middle of the even-numbered place settings.
When setting the table, hold the flatware in the area between the handle and the eating end to avoid leaving fingerprints.
When placing the flatware on the table, the bottom edge should be aligned with the bottom rim of the place, about 1" from the edge of the table.
Place knives with blades facing the plate.
Use care not to hide a utensil under the rim of the plate.
Never place over three pieces of flatware on either side of the plate at one time unless it's forks if an oyster fork is used.
Place the water glass approximately 1" from the tip of the dinner knife.
Before guests arrive, have butter waiting on butter plates, fill glasses with water, and have the wine ready to be served.
Of course, if someone happens to spill something on your lovely tablecloth, A Cleaner World is here to help!
---